Aamir Khan and Kiran Rao are celebrating their wedding anniversary with a wildlife safari at Gir National Park. They were accompanied by their son Azad and daughter Ira, and Aamir's nephew Imran Khan and his daughter Imara.

Updated on Dec 28, 2020 11:04 AM IST
Actor Aamir Khan and his wife, Kiran Rao, were spotted at the airport, headed for a mystery location with their son. Aamir's daughter, Ira, and nephew, Imran Khan, also accompanied them.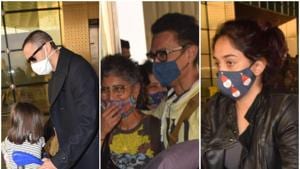 Updated on Dec 26, 2020 12:36 PM IST
Aamir Khan's daughter, Ira, in a new Instagram video has spoken about the advice that she received from professionals and her parents when she told them about her depression.

Updated on Nov 13, 2020 07:40 PM IST
Aamir Khan and Kiran Rao thanked the Ministry of Jal Shakti for its 'kind words' about the Paani Foundation, which has been working towards the problem of water scarcity in rural Maharashtra.

Updated on Sep 09, 2020 06:20 PM IST
Kangana Ranaut shared a fake interview of Aamir Khan last week and was called out on social media for it. Back in 2016, Aamir had addressed the fake interview and said he had filed an FIR against it too.

Updated on Aug 25, 2020 11:44 AM IST