Latest from application process
TS PGECET-2023 application process will end tomorrow, April 30.

Published on Apr 29, 2023 05:31 PM IST
But who is this digitally-driven 'Tau'? "Mein Hun naa!," said Haryana chief minister Manohar Lal Khattar, on his own and with a twinkle in his eyes, while launching 'Tau Se Poochho', a WhatsApp bot and a web-based chatbot solution designed to give quick responses to complex queries of people related to Parivar Pehchan Patra .

Updated on Apr 20, 2023 02:36 AM IST
OPSC has notified vacancies for 244 posts of Lecturers.

Published on Apr 18, 2023 08:53 PM IST
In January, the higher education regulator had released draft regulations allowing foreign universities to operate in the country. The draft rules sought to provide autonomy in admissions and fees.

Updated on Apr 18, 2023 12:56 AM IST
UPSC exam 2023: Candidates must be careful and not make any mistakes while applying for the UPSC examination.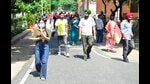 Published on Apr 05, 2023 04:32 PM IST