Sulochana Das started her career in Congress before shifting to Naveen Patnaik-led Biju Janata Dal. Following her history victory in Odisha urban body elections, she said she will work for a "smart and vibrant Bhubaneswar".

Written by Sharangee Dutta | Edited by Aryan Prakash
, New Delhi
The Biju Janata Dal had also won the recently-concluded panchayat elections, winning 766 of 852 seats and forming zilla parishads in all the districts.

BJP mayoral candidates in three municipal corporations of Bhubaneswar (BMC), Cuttack (CMC) and Berhampur (BeMC) won over their nearest rivals.

BJD has filled 67% of zila parishad president seats (unreserved/women) with members from the OBC community.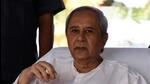 BJD gave 7 out of 21 MP tickets to women in the 2019 Lok Sabha elections, he said claiming to be the only political party to have done so.