Latest from civil service
Garima Lohia's father, Manoj Kumar Lohia, passed away in 2015, leaving behind a wife and three children.

Published on May 25, 2023 03:32 PM IST
The Indian Administrative Fellowship of The/Nudge Centre for Social Innovation led by Sudha Srinivasan, places tech professionals within government departments.

Published on May 25, 2023 02:09 PM IST
Shah Rashid Ahmed Quadri hails from a family of bidri artisans.

Updated on Apr 05, 2023 10:15 PM IST
UPSC exam 2023: Candidates must be careful and not make any mistakes while applying for the UPSC examination.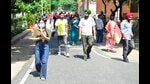 Published on Apr 05, 2023 04:32 PM IST
UPSC Civil Services 2022 interview schedule has been released. Candidates can check the personality test dates given below.

Published on Mar 28, 2023 11:21 AM IST