Latest from civil service
Civil Services Day 2022 is celebrated today, April 21. Know the history and significance of the day and why it is celebrated on this date.

Application process for West Bengal Civil Service (Executive) etc. Examination, 2022 will end on April 5. Direct link here.

The decision came after the Court was informed that a parliamentary standing committee had on March 24 recommended to the government an extra attempt as a general rule for all civil service aspirants due to the hardship caused by the Covid pandemic.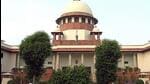 The Principal Bench of the Armed Forces Tribunal headed by Justice Rajendra Menon also asked the Indian Air Force to change their rules and conditions for granting permission to air warriors for applying for grade A services exams outside the force.

UPSC Civil Services Mains Result 2022 has been declared. Candidates can check the result by following these simple steps given below.