The Commission of Railway Safety (CRS) also pointed out "ghost examinations" of the engine, and said it is a "matter of investigation".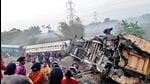 Updated on Feb 12, 2022 04:15 AM IST
Here are today's top news, analysis, and opinion. Know all about the latest news and other news updates from Hindustan Times.


Published on Jan 15, 2022 08:59 PM IST
At least 12 coaches of the Guwahati-bound train, which originated in Bikaner, derailed in the Alipurduar section in West Bengal at 5pm on Thursday (January 13). At least nine people were killed while 36 others left injured due to the accident.


Published on Jan 15, 2022 07:31 PM IST