Latest from durgesh pathak
One of the three oversaturated garbage dump sites in the city, Bhalswa landfill in north Delhi is estimated to hold more than 80 lakh tonnes of accumulated legacy waste.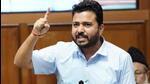 Updated on Sep 25, 2022 06:12 AM IST
The Enforcement Directorate had last week conducted raids at multiple locations across the country in connection with the Delhi Excise Policy 2021-22.

Published on Sep 19, 2022 11:56 AM IST
On Sunday, after winning the bypoll to the Rajinder Nagar assembly constituency, Pathak said, he had come to Delhi to prepare for civil services examination.

Updated on Jun 27, 2022 02:39 AM IST
The analysts pointed out that BJP was able to win all seven Lok Sabha seats in the state when it fought in the name of Prime Minister Narendra Modi, but despite being able to retain all the parliamentary seats in the Capital, the BJP is yet to defeat the AAP in a local election since 2015.

Updated on Jun 27, 2022 02:56 AM IST
The seat was vacated after then sitting MLA Raghav Chadha was nominated to the Rajya Sabha from Punjab by the party in March.

Published on Jun 04, 2022 12:17 AM IST