Latest from farmers protest
Telangana chief minister K Chandrashekar Rao was speaking at an event in Chandigarh organised to pay tributes to the farmers who died during the agitation against the Centre's now-repealed farm laws.

Arvind Kejriwal and KCR, along with Bhagwant Mann, paid tributes to the martyrs of the Galwan Valley clash against the Chinese troops and the farmers who died during the anti-farm law stir last year.

The farmers' agitation near the Chandigarh-Mohali border continued on Wednesday after they were stopped from heading to the state's capital to raise various demands.

The farmers, who were seen arriving with ration, beds, fans, coolers, utensils, LPG cylinders and other items, said they would not leave the spot till their demands were met.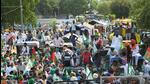 The Supreme Court had observed that the Allahabad High Court had shown "tearing hurry" in giving relief and adopted a "myopic view of the evidence".