Ditch Ballard caught a 100-kilo catfish while he was fishing for carp. The man shared his experience on Instagram.

Published on Mar 15, 2023 01:06 PM IST
This video shows how a bear catches a fish in Alaska and takes it home to store it for later. It then goes back into the water to look for more fish.


Published on Feb 17, 2022 06:40 PM IST
The video shows how a bald eagle hovered around a lake in Canada until it snatched away a fish before a person could reel it in.


Published on Jan 11, 2022 05:50 PM IST
Chairman of the Maharashtra Purse Seine Fishing Welfare Association, an angling body focusing on reducing juvenile overfishing, Nakhawa and his team have been spreading awareness about 40 protected marine species found along the Maharashtra coast among resident fishing boat skippers and their crew.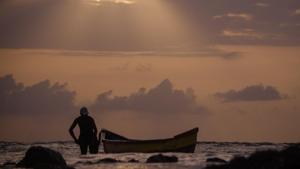 Updated on Sep 01, 2019 11:57 PM IST
The missing persons were identified as Ruplal Sahani, 30, and Manohar Sahani, 25. Both are residents of Sitamarhi district of Bihar.

Updated on Sep 03, 2018 05:34 PM IST
Kathmandu |
By
Press Trust of India