This year Chaitra Navratri is on March 22 and will conclude with Ram Navami on March 30. Here are foods to avoid during Navratri apart from onion and garlic

Updated on Mar 21, 2023 08:10 AM IST
By
Zarafshan Shiraz
, Delhi
Navratri 2022: Eating raajasic and taamsic foods like onion, garlic and non-veg is forbidden during Navratri. Here's why we adopt a satvik diet during the nine-day festival.


Updated on Sep 28, 2022 01:17 PM IST
By
Zarafshan Shiraz
, Delhi
Farmers in MP, a major garlic producer, yielded nearly two million tonnes this season, benefiting from incentives under the 'one district one product' scheme, which aims at pushing exports, but the glut drove down rates sharply to between ₹3 to ₹8 a kg, said Ratan Patel, a trader in Sehore.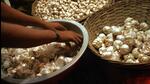 Updated on Sep 07, 2022 02:21 AM IST
Known as 'rasona' In Ayurveda, it has been trusted as an effective medicine for controlling blood pressure for thousands of years. An Ayurvea expert on best ways to consume it for controlling BP.


Published on Aug 31, 2022 04:44 PM IST
Attention vegetarians in the house! If low carb dishes are your bait, check out this recipe of Creamy Garlic Butter Tuscan Mushrooms that is easy to make in less than 15 minutes and will keep you coming back for more courtesy its rich sauce and incredible flavours

Updated on Apr 04, 2021 06:47 PM IST