The changing of names was part of the delimitation exercise, under which the number of wards went up to 80 in Gorakhpur, with several of these named after iconic personalities and freedom fighters.

Published on Sep 04, 2022 10:14 AM IST
Ahmed Abbasi, an IIT-Mumbai graduate, tried to forcibly enter the Gorakhnath temple premises on April 3.

Updated on Apr 30, 2022 07:43 PM IST
Written by Kanishka Singharia | Edited by Poulomi Ghosh
The UAPA allows the investigating agencies to get a longer remand of the accused and an extended duration to file a charge sheet.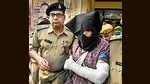 Updated on Apr 17, 2022 04:55 AM IST
Police suspects there could be a terror angle given the fact that UP CM Yogi Aditynath visits the region often.

Published on Apr 04, 2022 03:24 PM IST
By
Ishika Yadav | Edited by Sohini Goswami
"Work is on to connect other states and countries with Uttar Pradesh," the chief minister said while virtually inaugurating the flight.

Updated on Mar 28, 2022 05:43 AM IST