Latest from hyderabad police
The inspector, identified as K Nageshwar Rao, station house officer of Marredpally police station, was suspended by Hyderabad police commissioner C V Anand based on a complaint lodged by the woman on Friday night. Rao was on the run soon after the incident but surrendered himself to the police late on Sunday, senior officials said.

Updated on Jul 11, 2022 05:33 AM IST
Following the amendments to the Juvenile Act, minors aged 16-18 can be tried as adults if they are accused of a "heinous crime".


Published on Jun 09, 2022 04:48 PM IST
Written by Sharangee Dutta | Edited by Aryan Prakash
, New Delhi
The police said they had arrested two persons – pub manager Mahadaram Anil Kumar and his partner Abishek Vuppala in connection with the incident. Another partner Arjun Veeramachineni is absconding.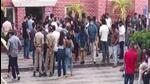 Updated on Apr 04, 2022 05:08 AM IST
For better safety and security of women, Hyderabad Police's 'She' unit started a new initiative called 'Saat Saat Ab Aur Bhi Pass' that was launched by the Hyderabad City Police on Saturday.

Published on Oct 24, 2021 02:57 PM IST
ANI | | Posted by Sharangee Dutta
, Hindustan Times, New Delhi
Anjani Kumar, Commissioner of Police, Hyderabad city who also saw the video, invited constable S Mahesh Kumar to his office and congratulated him.

Published on May 19, 2021 05:06 PM IST