The government data released last week showed India's gross domestic product (GDP) growth slowed to a three quarter low of 4.4 per cent in October-December,2022, mainly due to contraction in manufacturing and low private consumption expenditure.

Published on Mar 07, 2023 06:57 PM IST
PTI | | Posted by Singh Rahul Sunilkumar
The 4.4% growth for the quarter ending December was lower than the 4.7% projection by a Bloomberg poll of economists

Updated on Mar 01, 2023 04:08 AM IST
Experts have projected moderation in the growth momentum for Q3 due to uneven economic activity during the period.

Updated on Feb 28, 2023 07:19 AM IST
Here are today's top news, analysis, and opinion. Know all about the latest news and other news updates from Hindustan Times.

Updated on Jan 31, 2023 05:10 PM IST
At the top end, the estimate is higher than the latest estimates of the International Monetary Fund (IMF) and the World Bank.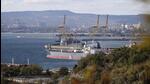 Updated on Jan 31, 2023 08:03 AM IST