Latest from justin timberlake
Britney Spears has pledged to a judge that she wants to end the "abusive" case. She condemned her father and others who control the conservatorship.

Published on Jun 24, 2021 10:37 AM IST
Justin Timberlake has shared a note for ex-girlfriend Britney Spears and singer Janet Jackson, with whom he performed at the Super Bowl.


Updated on Feb 13, 2021 12:12 PM IST
Here are today's top news, analysis, and opinion. Know all about the latest news and other news updates from Hindustan Times.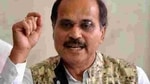 Published on Jan 28, 2021 09:02 PM IST
Palmer movie review: Justin Timberlake's new film, out on Apple TV+, is an overly familiar story, told with undeniable sincerity.


Published on Jan 28, 2021 07:13 PM IST
Celebrity couple Justin Timberlake and Jessica Biel have welcomed their second child, a year after he publicly apologised for inappropriate behaviour amid cheating rumours.


Published on Jan 18, 2021 01:38 PM IST