Some experts said IMD may have shown haste in announcing the arrival as the rainfall criterion for the onset of monsoon remained unmet on Sunday.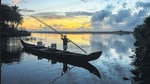 Updated on May 30, 2022 06:48 AM IST
By
Jayashree Nandi
, New Delhi
Local bodies have been directed to prepare a list of disaster-prone areas in their respective jurisdictions and alert concerned government departments.

Published on May 21, 2022 05:39 PM IST
Written by Kanishka Singharia | Edited by Aniruddha Dhar
The Kerala State Disaster Management Authority said cyclonic circulation over northern Tamil Nadu and adjoining areas would lead to isolated very heavy rainfall.

Published on May 19, 2022 05:30 PM IST
Written by Manjiri Sachin Chitre | Edited by Chandrashekar Srinivasan
Here are today's top news, analysis, and opinion. Know all about the latest news and other news updates from Hindustan Times.
Published on May 15, 2022 04:47 PM IST
R Babu was admitted to a hospital after being provided food and water by rescuers, whom he embraced and thanked profusely after a precarious operation in which several evacuation attempts by helicopters failed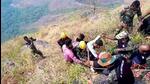 Published on Feb 10, 2022 12:33 AM IST