Vijayan, aiming to rule the state for the next five years, has revamped his cabinet with 11 new faces and only inducted freshers. The state health minister in the outgoing assembly, KK Shailaja, who played a leading role in the fight against Covid-19 disease outbreak has not found a place in the new cabinet.


Updated on May 18, 2021 04:32 PM IST
KK Shailaja held the health portfolio in Vijayan's previous government and was known for the contribution and efforts against the coronavirus disease (Covid-19) pandemic.


Updated on May 18, 2021 04:36 PM IST
hindustantimes.com
| Written by Deepali Sharma | Edited by Avik Roy
, Hindustan Times, New Delhi
Kerala assembly elections: State health minister KK Shailaja cast her vote in Kannur during the single-phase state assembly polls on Tuesday and said, "BJP has no chance in Kerala despite their "propaganda" through the media."

Published on Apr 06, 2021 01:22 PM IST
While Revenue minister E Chandrasekharan received the jab from the vaccination centre at the same hospital,Minister of Ports and Museums Kadannappally Ramachandran got the shot from a hospital in his home district, Kannur.


Published on Mar 02, 2021 06:51 PM IST
PTI |
, Thiruvananthapuram
The minister said the aim of Back to Basics campaign is to educate the public about the importance of following Covid-19 related protocols and reducing disease transmission.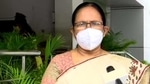 Published on Jan 31, 2021 12:09 AM IST
ANI |
, Thiruvananthapuram
A total of 133 vaccination centres were allotted in the southern state in the initial phase which were being increased with the availability of more doses of vaccines.

Published on Jan 23, 2021 06:27 PM IST
PTI |
, Thiruvananthapuram