All airlines operating in India will have to provide for a child restraint system in aircraft to protect infants and children, the DGCA instructed on Sunday, following recommendations of an expert panel that looked into the crash of an Air India Express flight in Kerala's Kozhikode in August 2020.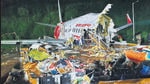 Customs officials said this is one of the biggest haul in recent times in the country. The operation was carried out jointly by a team of the sleuths of the Directorate of Revenue Intelligence (DRI) and the customs department after a tip-off.

An eco-tourism hotspot located 700 metres above sea level and 60 km from Kozhikode, Vythiri in Kerala's Wayanad had its entire population, including tourism service providers, vaccinated against Covid-19 during an intensive inoculation drive held from July 13-17.