The encounter in Cheyan Devsar broke out after security forces carried out search operation based on the inputs of the presence of two terrorists.

The encounter took place at the Cheyan Devsar area of Kulgam, with both the police and army involved.

Written by Shubhangi Gupta | Edited by Swati Bhasin
, New Delhi
According to a police spokesperson, the encounter erupted after a search operation by Kulgam Police and Army's 9 RR was held following inputs about the possible presence of terrorists in Mirhama area.

On April 7, a migrant labourer from Pathankot, Sonu Sharma, was wounded after terrorists opened fire at him in South Kashmir's Pulwama.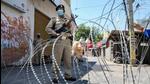 The police on Thursday said that misleading information by the house owner led to the killing of a cop and injuries to three soldiers.