Latest from madhya pradesh police
Madhya Pradesh Police wrote to their Rajasthan counterparts, saying that pickpockets had struct during the last stretch of Congress's 'Bharat Jodo Yatra' in Madhya Pradesh, which ended last week.

Updated on Dec 11, 2022 11:20 PM IST
In her complaint, the BJP MP from Bhopal stated she was threatened by a gang member of underworld don Dawood Ibrahim's brother, Iqbal Kaskar, for supporting former party spokesperson Nupur Sharma.

Published on Jun 20, 2022 04:46 PM IST
The fire in the Indore building claimed seven lives and injured nine others on Saturday. Police arrested the accused on Saturday night from Lohamandi.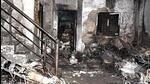 Updated on May 08, 2022 04:26 PM IST
The incident comes days after three members of the Vishwa Hindu Parishad dragged a Muslim man and his Hindu travelling companion out of an Ajmer-bound train, at Ujjain railway station, accusing the former of "love jihad".

Updated on Jan 23, 2022 05:44 AM IST
The case pertains to the arrest of four people for supplying weed from Visakhapatnam in Andhra Pradesh through a company they registered on Amazon under the guise of selling stevia, a plant-based sweetener.

Published on Nov 21, 2021 03:05 AM IST