The husband had contended that he had obtained an ex-parte decree for divorce as well as custody of their adolescent twin boys from the Circuit Court in Farifax County in the USA.

Updated on Feb 03, 2023 03:01 AM IST
By doing so, an attempt is being made to address persons belonging to LGBTQIA community with more dignity and respect, said the additional advocate-general.

Published on Aug 23, 2022 08:10 PM IST
PTI | | Posted by Yagya Sharma
Justicie Abdul Quddhose gave a ruling to this effect while passing orders on a writ petition from J Yuvan Manoj on Tuesday. This order follows a recommendation from the local Tahsildar.

Published on Aug 17, 2022 01:08 PM IST
Teachers who did not get through TET not entitled to continue in service, rules Madras HC

Published on Apr 07, 2022 08:27 PM IST
A two-judge bench of the Madras high court frowned on the controversies around the dress code during Thursday's hearing on a petition that sought directions to the government to prescribe a dress code for entering temples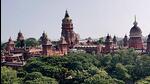 Updated on Feb 11, 2022 06:30 AM IST