J&K's Lt Governor Manoj Sinha also briefed Prime Minister about J&K's agriculture and its allied sectors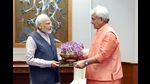 Updated on Nov 14, 2022 01:17 AM IST
During his virtual speech at the 'Rozgar Mela' in Jammu and Kashmir, Prime Minister Narendra Modi lauded Lieutenant Governor Manoj Sinha and his team for working hard to put an end to the "disease of corruption" in the Union territory.


Published on Oct 30, 2022 03:09 PM IST
J&K Lieutenant Governor Manoj Sinha said these are the people who are responsible for the unrest in the Union territory, adding that these people know unless there is a certain level of terrorism and violence, nobody will care in Delhi.


Updated on Oct 26, 2022 10:33 PM IST
The warning came days after former J&K chief minister Farooq Abdullah said killings won't stop in the Valley "until justice is served".


Updated on Oct 21, 2022 12:15 PM IST
Sinha said he was deeply grieved at Lohia's demise and extended his condolences to the bereaved family.


Published on Oct 04, 2022 01:35 PM IST