On July 20, the Haryana Urban Local Bodies (ULB), in a first, directed all municipal corporations in the state to implement the orders, failing which, operators would face strict action.


Published on Aug 11, 2022 05:35 AM IST
Senior officials of the civic body clarified that the ban would not apply to sale of packaged frozen meat at the city's supermarkets.


Published on Jul 30, 2022 09:51 PM IST
With Delhi's only legal slaughterhouse at Ghazipur staying shut for 22 days, the meat traders have approached the Delhi Minorities Commission to protect their livelihood, Mohammad Arshad Qureshi, the president of Delhi meat merchant association, said on Tuesday


Updated on Jun 22, 2022 02:59 AM IST
Yunus Idres Qureshi, Delhi Meat Association Vice President, said that the meat business across Delhi is functioning as usual as no official order has been issued.


Published on Apr 06, 2022 04:05 PM IST
On Friday, the Ghaziabad municipal corporation issued an order, signed by Sharma, which ordered all meat shops in the city to stay shut from April 2 to 10 in light of the nine-day Hindu festival of Chaitra Navratri.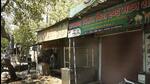 Published on Apr 03, 2022 12:57 AM IST