[
national stock exchange
]
Latest from national stock exchange
According to the central agency officer, the firm committed the purportedly illegality from the basement of the NSE building in Mumbai where it was provided a small space.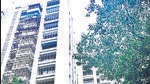 Updated on Jul 09, 2022 06:04 AM IST
By
Neeraj Chauhan, Vijay Kumar Yadav, Manish K Pathak
, Mumbai/newdelhi
NSE co-location case - the alleged improper dissemination of information from the computer servers of the stock exchange - is being investigated by the CBI.

Published on May 21, 2022 11:53 AM IST
The CBI had arrested Ramkrishna earlier this month in connection with its probe into the stock market manipulation. Ramkrishna is being interrogated about the irregularities in the NSE during her tenure.

Updated on Mar 28, 2022 06:33 PM IST
Defence counsel sought home-cooked food for Ramkrishna during the judicial custody to which the judge said the food in judicial custody is also good. "I have had the food many times," the judge said.

Published on Mar 14, 2022 02:57 PM IST
Chitra Ramkrishna is charged with leaking sensitive information to the co-accused and others, claiming that she was acting on the advice of a so-called Himalayan yogi.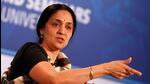 Published on Mar 05, 2022 11:34 PM IST