This comes a week after the University Grants Commission (UGC) and the All India Council for Technical Education (AICTE)'s similar advisory when they urged Indian students not to go to the neighboring country for higher studies

Karnataka CM Basavaraj Bommai says government is considering measures to reduce the fees for medical course in the state and also National Medical Council (NMC) is looking into it, following the Ukraine crisis, aimed at facilitating more students to study here.

Hippocratic oath is an ethical code for fresh medical graduates that is believed to have been written by the ancient Greek physician Hippocrates. The oath is taken during the convocation ceremony as a guide to conduct medical practice.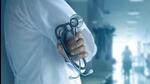 The warning by the National Medical Commission (NMC) was issued after India's external affairs ministry was alerted that some Chinese medical universities were inviting applications for admission to MBBS programmes - despite a ban on foreign students from entering China.

An office memorandum by NMC stated that the benefit of this fee structure would be first made available to those candidates who have availed government quota seats but limited to the extent of 50 per cent of the total sanctioned strength of the institute.