In May Indian refiners received about 819,000 barrels per day (BPD) of Russian oil, the highest thus far in any month, compared to about 277,00 in April, the data showed.

The study has been authored by Hari Seshasayee

India oil imports: India buys most of its oil from the Middle East, but the US has emerged as the fourth-biggest source, Reuters said

Russia has offered crude oil and other commodities at discounted rates to India after the US and its allies imposed sanctions on Moscow following President Vladimir Putin's decision to invade Ukraine last month.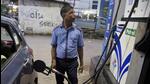 Despite China's effort to get an "ecological civilization" that relies more on renewable energy, its reliance on Middle East oil has increased.