Latest from pakistan terrorism
The State Department report stated that Indian security agencies are effective in disrupting terror threats and respond "in a timely manner" to the requests made by the United States.


Published on Dec 17, 2021 09:41 AM IST
In Pakistan and Afghanistan, there are numerous illegal `madrasas' or religious schools which force the youth towards `jihad' or holy war.

Published on Oct 05, 2021 02:57 PM IST
The tunnel appears to be six to eight years old and it has been found at the same place where BSF had shot down a Pakistani drone last year on June 20, said the BSF IG.

Published on Jan 23, 2021 02:44 PM IST
Police fear the number of casualties may increase because some of those injured are in a serious condition. Most of the victims were in Peshawar's Lady Reading Hospital.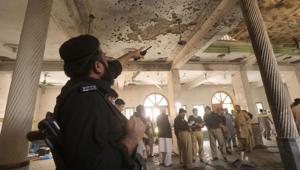 Updated on Oct 28, 2020 05:12 AM IST
Hindustan Times, Islamabad |
By
Imtiaz Ahmad
, Islamabad