Indonesia, the world's biggest producer and exporter of palm oil, on April 28 halted exports of the product to control soaring prices at home.

Published on Jun 14, 2022 02:09 PM IST
Higher purchases by India, the world's biggest importer of vegetable oil, could support Malaysian palm oil prices, which are trading near a record high.

Published on Jun 07, 2022 08:54 AM IST
The archipelago nation had issued the ban last month to secure supplies of the commodity.


Published on May 19, 2022 05:50 PM IST
Union food secretary Sudhanshu Pandey will head the panel, which recently reviewed the availability of edible oils in the country and met representatives of major oil processing associations.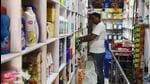 Updated on May 02, 2022 05:24 AM IST
Trade Minister Muhammad Lutfi removed export curbs on March 18 and, instead, increased the palm oil export levy, blaming a "palm oil mafia" for exploiting the situation.


Published on Apr 29, 2022 04:54 PM IST