Latest from paris agreement
The article has been authored by Ashwajit Singh, founder & managing director, IPE Global


Published on Aug 04, 2022 11:07 AM IST
Mehdi Hussain, assistant professor, department of political science, Kirori Mal College and doctoral research scholar, School of International Studies, Jawaharlal Nehru University

Published on Apr 26, 2022 12:23 PM IST
The deal marks a rare moment of cooperation between the world superpowers who have been locked in geopolitical rivalry.

Published on Nov 11, 2021 01:46 AM IST
More than 195 countries had evolved and adopted the Paris rulebook – a set of guidelines for implementing the 2015 Paris Agreement at COP 24 in Katowice, Poland in 2018.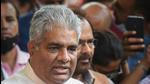 Updated on Oct 03, 2021 12:54 AM IST
By
Jayashree Nandi
, New Delhi
Turkey, the only G-20 country that's not yet ratified the Paris Agreement, is preparing to seek parliamentary approval for the accord next month, president Recep Tayyip Erdogan said on Tuesday.


Published on Sep 22, 2021 12:37 PM IST