The World Skill Center's proposed project aims to create a center of excellence in the state where the skills of the youth of the state can be raised to a new level through collaboration with international experts.

Updated on Apr 26, 2023 06:59 PM IST
NIT Rourkela Placements: More than 90% of students have been placed this year in 11 B.Tech Departments along with the Mining Department recording a 100% placement, according to the institute.


Published on Jun 29, 2022 02:05 PM IST
IIM Bangalore witnesses another successful placement session with 662 offers coming for 513 students (of PGP and PGPBA Class of 2020-22) who appeared for Placements.


Published on Feb 23, 2022 05:51 PM IST
"There has been over 45% increase in the number of offers received by the campus and over 35% increase in the indicative compensation offered by companies visiting on December 1, 2021, in comparison to last year," IIT Delhi has said.


Published on Dec 02, 2021 02:54 PM IST
DataTrained placement season activities have recently ended. A total of 134 recruiters participated to hire 350 students including 25 first time recruiters.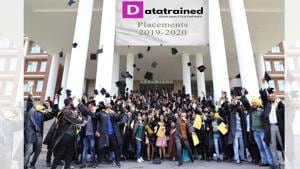 Updated on Feb 12, 2020 01:05 PM IST