Latest from Presidential Election
The Opposition also announced an 11-member campaign committee to assist Sinha for the election scheduled to be held on July 18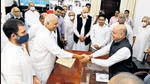 Yashwant Sinha was recently picked as the presidential candidate.

Presidential Polls: In the July 18 elections, Yashwant Sinha and Droupadi Murmu are facing each other.

The Uparbeda village in Kusumi block, with a population of 3,500, has two hamlets Badasahi and Dungursahi. While Badasahi hamlet is fully electrified, Dungursahi has only 14 households which are yet to get electricity.

Written by Kanishka Singharia | Edited by Sohini Goswami
Bahujan Samaj Party chief Mayawati backed Droupadi Murmu saying 'the Adivasi samaj is an important part of the party's movement' and denied it meant she was supporting the BJP.