On May 2, 1996, polling officer Srikrishna Singh Rana lodged an FIR against Babbar, Arvind Yadav and unidentified persons for assaulting the polling staff at booth number 192/103 under Wazirganj police station limits in Lucknow. Arvind Yadav died over the course of the hearing.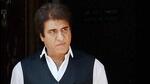 Updated on Jul 08, 2022 04:25 AM IST
Actor-politician Raj Babbar has been convicted for assaulting a polling officer. A Mumbai court has sentenced him to two years in prison.

Updated on Jul 07, 2022 10:26 PM IST
Raj Babbar once revealed that he was replaced in a film by Amitabh Bachchan after he had already moved to Mumbai to shoot for it. The actor was also replaced by Shashi Kapoor in a film.


Published on Jun 23, 2022 06:38 AM IST
Arya Babbar had a heated argument with a pilot during a recent flight. Watch it here.

Published on Feb 20, 2022 08:13 PM IST
Raj Babbar has shared an old photo of his late wife Smita Patil on her death anniversary. He also penned a note for her. Check out his post here.

Published on Dec 13, 2021 04:05 PM IST