Questioning the timing of the Congress protest against rising prices of essential commodities in the country, Shah said that there was no raid, no fresh summons issued by the Enforcement Directorate.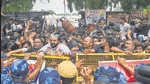 Updated on Aug 06, 2022 01:45 AM IST
Around 17,000 stones measuring 5ft x 2.5 ft x 3 ft, which are being procured from Karnataka and Andhra Pradesh, will be used in the construction of the plinth, the member cited above said.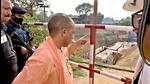 Published on May 18, 2022 12:26 AM IST
The auction was completed in two phases from November 10 to December 3 through the Centre's e-platform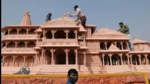 Updated on Dec 25, 2021 03:32 AM IST
Champat Rai earlier in October said that the grand Ram Temple will be equipped with modern technology.


Published on Nov 03, 2021 06:48 PM IST
The ground floor of the Ram Mandir, where the sanctum sanctorum will be located and where an idol of Ram Lalla will be placed, will be ready for prayers by December 2023.


Updated on Sep 17, 2021 11:00 AM IST