"Those who live in India know we were in the midst of a corona wave," external affairs minister S Jaishankar said in response to Congress leader Rahul Gandhi's comments on absence of foreign guests at Republic Day.

While the Constitution was adopted by the Constituent Assembly of India on 26 November 1949, it became effective on 26 January 1950.

Written by Shubhangi Gupta | Edited by Sohini Goswami
, New Delhi
In a never-seen-before display in India's history, the drone fleets positioned themselves into breathtaking formations to depict the 75th year of India's Independence, the 'Make-in-India' lion, the National War Memorial, Mahatma Gandhi's contribution, a rotating globe, a map of India and the Tricolour.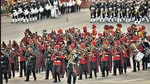 The 10-minute drone show involving 1,000 drones lighted up Delhi's sky commemorating the 75 years of Independence.

Beating Retreat ceremony: Most of the restrictions will be in place from 2pm to 6.30pm. The roads around Vijay Chowk, where the ceremony will take place, will be closed till 9.30pm. The traffic police has asked commuters to take alternate route.