The beaches are preferred by sea lions which choose the nearby rocks to breed and nurse.

Published on Sep 25, 2023 09:06 AM IST
In November, the country declared a 180-day health alert after finding three cases of highly contagious H5N1 in pelicans. According to the SENASA agricultural health agency, the disease is transmitted by migratory birds from North America.

Published on Feb 08, 2023 05:47 AM IST
This video that was shared on Instagram shows how a 17-year-old rescue sea lion could not stop hugging her trainer.

Published on Feb 09, 2022 08:03 PM IST
"He came, ate and conquered," joked a Twitter user.

Published on Mar 23, 2021 02:46 PM IST
The zoo, located in the Vincennes forest east of the French capital, said all three births were rare events.

Published on Aug 27, 2020 06:52 PM IST
PARIS |
Reuters | Posted by: Srimoyee Chowdhury
Watching this photoshoot may make you say, "suns out, tongues out... literally".

Updated on Jun 04, 2020 01:01 PM IST
Hindustan Times, New Delhi |
Sanya Budhiraja
The amazement and bewilderment in the sea lion's eyes from encountering the existence of such a creature for the very first time is making netizens swoon.

Published on Mar 29, 2020 01:46 PM IST
Hindustan Times, New Delhi |
Sanya Budhiraja
The sea lions are 3-year-old females named Niblet and Brawler.

Published on Feb 28, 2020 10:54 AM IST
HONOLULU |
Associated Press
The sea lions also notice they're being watched but look far too relaxed to do anything about it.

Published on Jan 03, 2020 03:23 PM IST
Hindustan Times, New Delhi |
HT Correspondent
Antarctica's vulnerability is attracting a large number of visitors, with tourists hoping to catch a glimpse of what one day might be gone.

Updated on Nov 29, 2019 12:59 PM IST
Half Moon Island, Antarctica |
Agence France-Presse
Chase Dekker, who is also a marine biologist, took the spectacular shot during a whale-watching boat trip off the coast of Monterey Bay, in California, last week.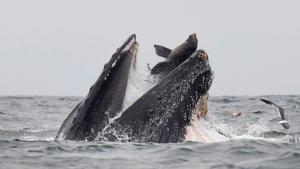 Updated on Jul 31, 2019 12:03 PM IST
Los Angeles |
Agence France-Presse