Latest from subhas chandra bose
Here are today's top news, analysis, and opinion at 1pm. Know all about the latest news and other news updates from Hindustan Times.

Trinamool Congress (TMC) MPs protested at India Gate on Thursday against the hologram being 'blacked out.'

Perhaps you know the popular military greeting "Jai Hind" is taken from the INA, but are you aware the INA's insignia was Tipu Sultan's springing tiger? Its motto was three Urdu words — ittehad, itmad aur qurbani (unity, trust and sacrifice)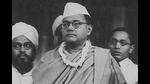 Dated April 22, 1921, the letter was written by Bose, then aged 24, to Edwin Montagu, the then Secretary of State for India.

Netaji's 125th birth anniversary: On the occasion, the disaster management award, named after the freedom fighter, was given for the years 2019, 2020, 2021 and 2022.