Latest from ursula von der leyen
Making a surprise visit to Kyiv, von der Leyen said talks she held with Ukrainian President Volodymyr Zelensky "will enable us to finalise our assessment by the end of next week".

Published on Jun 12, 2022 05:59 AM IST
The commission President made the remarks in Tokyo where the top EU officials have gone for an annual round of talks.

Published on May 12, 2022 11:09 AM IST
Written by Shubhangi Gupta | Edited by Swati Bhasin
, New Delhi
European Commission President Ursula von der Leyen said the "seemingly unrestrained pact" between Russia and China, which was finalised before the Ukraine invasion, will have ramifications for both Europe and Asia.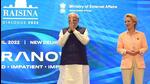 Updated on Apr 25, 2022 11:03 PM IST
European Commission president Ursula von der Leyen is on a two-day visit to India that started on Sunday. She met Prime Minister Narendra Modi and President Ram Nath Kovind.

Updated on Apr 25, 2022 07:58 PM IST
This is the first time that India has agreed to set up such a trade and technology council with any of its partners

Published on Apr 25, 2022 12:32 PM IST