Tension engulfed Srirangapatna, the former capital of 18th-century ruler Tipu Sultan, where right-wing groups declared their intention to chant Hanuman Chalisa outside the mosque on Saturday. The Hindutva outfits launched a Srirangapatna Chalo campaign, claiming the mosque stands on the ruins of a Hanuman temple.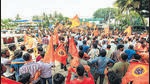 A Hindu temple-like architectural design was discovered underneath an old mosque on the outskirts of Mangaluru on Thursday, news agency ANI reported.

According to the DCP, the other two processions which were carried out on Saturday morning and afternoon in the area had due permission.

Singh replaced Vishnu Sadashiv Kokje, who had been serving as the VHP president since his election to the top post in April 2018.

Kumaraswamy said his objection was only to collection of funds for the temple construction without transparency and "loot and misuse" of funds in the name of Ram.