'Peak Bangalore moment': Man spots landlord after days on Shark Tank India season 2
Jan 19, 2023 05:25 PM IST
A man living in Bengaluru spotted his landlord on Shark Tank India season 2 and shared about it on Twitter. It has sparked chatter online with an individual joking, "So are you now going to pay the rent or invest?"
Shark Tank India, the Indian version of the hit American show Shark Tank, became a sleeper hit and aroused the interest of many across the country. And even if you haven't watched it, you have probably heard about it. The show has a panel of investors known as 'sharks' who listen to the pitches of budding entrepreneurs and decide whether to invest in their ventures or not. The makers are now back with season two on Sony TV from Monday to Friday at 10 PM, and it has glued many to their screens. Recently, a man who was watching Shark Tank India spotted his landlord on the show after not seeing him in a long time. He took to Twitter to share about it, and netizens were quick enough to respond to his post.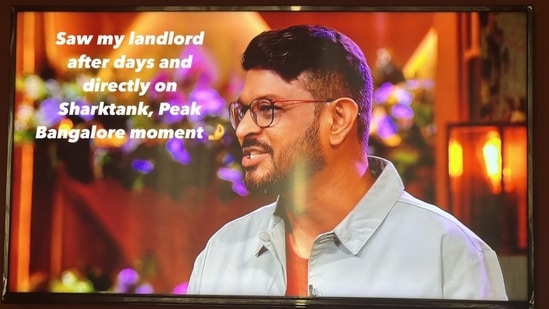 "@peakbengaluru moment when I saw my landlord on @sharktankindia," wrote Twitter user Vansh Agarwal while sharing a screengrab from the show. According to Vansh, Flatheads founder Ganesh Balakrishnan is his landlord. Ganesh recently appeared on Shark Tank India, broke down while pitching his business and rejected a lucrative investment offered by the sharks. He even said, "Wife Kamati Hai, Mai Udata Hu (My wife earns and I spend)." While many were impressed by his honesty, others lauded him for admitting his failures on national television.
Take a look at his tweet below:
Since being shared on January 10, the tweet has raked up more than 2.2 lakh views. It has also received over 2,000 likes, several retweets and comments.
Here's how people reacted to the tweet:
"If rent goes up now, you know why. Jokes aside, major respect for the guy," wrote a Twitter user. To this, Vansh replied, "Hahaha! He is a gentleman, he won't." "Coolest landlord ever?" posted another. Vansh reacted to this and wrote, "He is irrespective of him being on the Shark Tank. " "Things that can only happen in Bangalore," shared a third. "So are you now going to pay the rent or invest?" joked a fourth.