Kit Harington calls Game of Thrones' episode 4 one of his favourites, calls it 'twisted and uncomfortable'
Kit Harington has said that he found the latest episode of the ongoing Game of Thrones as one of his favourites as it is 'twisted and uncomfortable'.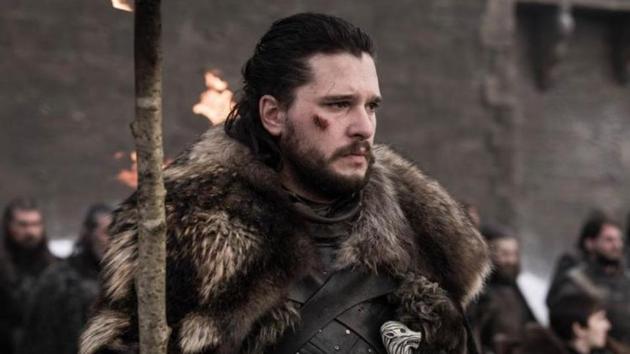 Updated on May 06, 2019 01:12 PM IST
Game of Thrones star Kit Harington says the fourth episode of the eighth and final season of the HBO series is one of his personal favourites. The 32-year-old actor, who plays the fan favourite Jon Snow in the epic fantasy show, said the latest chapter is very Shakespearean as it has certain "twisted and uncomfortable" elements in it.
"One of my favourite episodes is four because the characters have seemingly got what they needed. The world is safe now. They're celebrating and saying goodbye to lost friends. "But as an audience you're going, 'This is only episode four, something's going to happen.' And that's the cool thing because I think the characters are aware of this as well. There's something twisted and uncomfortable about it. It's so Shakespearean," Harington told Entertainment Weekly.
Also read: Game of Thrones season 8 episode 4 review The Last of Starks: Neither Brienne-Jaime nor an orgy can save this one
Earlier, Emilia Clarke had said that people need to prepare for episode five as it would perhaps be bigger than the Battle of Winterfell last week. "(The next episodes) are going to be mental. Episode five is bigger. Episode five is ahhhh. I mean four and five and six, they're all insane, but..." Clarke told Jimmy Kimmel on his chat show. The final season of GoT now has two more episodes to be aired.
It's raining leaks in the eighth and final season of Game of Thrones as the fourth episode of the HBO series found its way on the Internet, hours ahead of its premiere. According to The Wrap, clips from the new episode, which airs Sunday at 9 pm Eastern Time in the US, leaked in Thailand a few hours ago, claimed a Reddit user posted.
The user also shared an image claiming it to be from the latest chapter. Several clips videos also found their way to Twitter and YouTube, some of which were quickly removed.
A roughly 30-second video appeared on social media which appears to show the death of a relatively important character, Variety reported. Reports also suggest more leaks, teasing a second death, that of a major character.
Last week, leaked stills gave an insight into how episode three, which revolved around the Battle of Winterfell, would unfold. Representatives for HBO did not immediately respond to the request for comment. There are officially three more episodes to go for the series finale.
The first leak occurred when the highly-anticipated opening episode of the final season landed on DirecTV Now, four hours ahead of its premiere time. This was followed by the second episode which was released early via Amazon Prime Video in Germany.
Follow @htshowbiz for more
Close Story