Euro 2016 final offers Ronaldo chance to overshadow Messi as greatest
For so much of Cristiano Ronaldo's glittering career, he has battled Lionel Messi, often unsuccessfully, to be considered the greatest player in the world.
euro 2016
Updated: Jul 08, 2016 23:52 IST
For so much of Cristiano Ronaldo's glittering career, he has battled Lionel Messi, often unsuccessfully, to be considered the greatest player in the world.
If history ultimately judges the finest talents by their achievements on the international stage, where neither player has tasted success, then the Portuguese captain could use Sunday's Euro 2016 final to land a haymaker blow in one of football's great rivalries.
Ronaldo has overcome rumblings of discontent at the tournament, with his form and attitude subjected to microscopic analysis, to lead his side into a showpiece finale where they will face hosts France in Paris.
Should he end the occasion holding aloft the trophy, it would not only crown a remarkable career, it would perhaps settle once and for all a debate that has divided fans across the world.
The Fifa Ballon d'Or award often ends up becoming a two-horse race between Messi and Ronaldo. (Getty Images)
Ronaldo and Messi have been jostling for the World Player of the Year title for years, often with little to separate them in the scoring charts or in their burgeoning trophy cabinets.
They have hoovered up eight Ballon D'Or titles between them (Messi five, Ronaldo three) and been the cause of innumerable arguments among fans and pundits who have picked over their various merits.
Yet neither has led their country to glory in a continental or World Cup tournament.
A rivalry that stretches back a decade and includes two of the world's biggest clubs in Ronaldo's Real Madrid and Messi's Barcelona, could be about to witness a defining moment.
And timing is everything.
Argentina's loss in last month's Copa America final, the nation's fourth in a major international tournament, hurt Messi so much so that he immediately announced his retirement from international football. (REUTERS)
When Messi's Argentina failed to beat Chile in last month's Copa America Centenario final it proved too heavy a blow for the diminutive playmaker, who announced his international retirement in the aftermath.
Four defeats
A multiple trophy winner with Barcelona, the 29-year-old Messi had been part of four final defeats with the national team, three in the Copa America and at the 2014 World Cup in Brazil.
Fast forward a few weeks and Sunday's final offers Ronaldo an opportunity to stamp his authority decisively on the debate. Victory against France would elevate him into a pantheon of former greats who have tasted international success.
Pele, Diego Maradona, Zinedine Zidane, Franz Beckenbauer and Michel Platini all claimed international trophies to cement their standing as the best players of their generations.
It is a list that Ronaldo would no doubt like to join and he is coming into form right on cue.
The 31-year-old, who suffered disappointment in the 2004 final when his side were beaten by Greece, began Euro 2016 with his influence on the team under scrutiny.
Ronaldo was heavily criticised for his description of Iceland as a team with a "small mentality". (AFP)
As Portugal failed to win their first five games inside 90 minutes, Ronaldo was frequently pictured scowling at teammates and throwing up his arms in despair as passes went astray and chances went begging.
He threw a reporter's microphone into a lake when he was asked a question during a team walk and was criticised for disparaging remarks he made about Iceland after Portugal drew 1-1 with the rank outsiders in their opening match.
Yet for all the theatrics, when the curtain rose on their biggest match of the tournament, he was the undoubted star of the show, scoring once with a magnificent header and setting up another goal in their 2-0 semi-final victory over Wales.
Here's how Ronaldo's spectacular header gave Portugal the lead against Wales: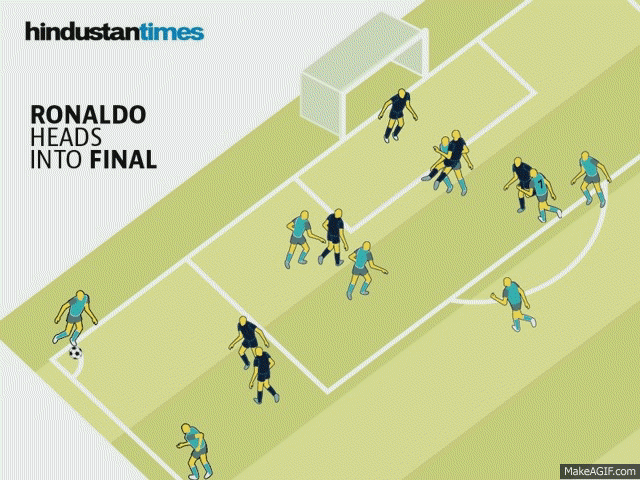 The current Portugal side are far from the most talented in their recent history and Sunday's opponents France are heavy favourites but a Ronaldo-inspired victory would, for once, leave Messi firmly in his rival's shadow.
Read:
Why Cristiano Ronaldo divides opinion like no other athlete on planet
Mercurial Messi: From medal laden exploits to tax fraud conviction