32 Indian peacekeepers injured, child killed in east Congo blast: UN
An explosion killed a child and injured 32 Indian peacekeepers in the east of the Democratic Republic of Congo on Tuesday, the UN mission said.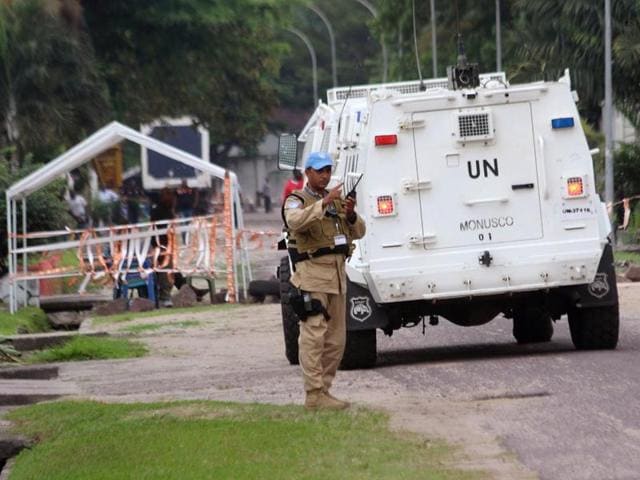 Updated on Nov 08, 2016 07:02 PM IST
A bomb attack on UN peacekeepers in the east of the Democratic Republic of Congo killed a child and wounded 32 Indian troops on Tuesday, the UN mission there, MONUSCO, said.
Provincial governor Julien Paluku told Reuters an eight-year-old girl and one peacekeeper had been killed in the blast.
An imam who witnessed the explosion told Reuters three peacekeepers had been killed, but the UN mission did not immediately confirm any deaths.
Ismael Salumu, an imam at a nearby mosque, told Reuters, "We just heard the explosion and the cries. We then ran over to see."
The blast hit the peacekeepers while they were out on a morning run in the city of Goma.
"MONUSCO explosives expert on the scene confirmed an Improvised Explosive Device (IED) attack against peacekeepers," the UN said, adding that five peacekeepers were in serious condition in hospital.
Attacks with explosive devices are extremely rare in Congo and it was not immediately clear who might have been responsible.
Paluku said Congolese and UN investigators were trying to determine the exact nature of the device.
About 18,000 uniformed UN personnel operate in Congo, where millions of people died in regional conflicts during 1996-2003 and dozens of armed groups continue to operate.
The UN Mission has troops and police personnel drawn from more than 50 countries, including regional nations, and was deployed in 1999. The peacekeepers protect civilians and disarm dozens of rebel and splinter groups after two decades of conflict in the east of the country.
The blast in the east threatens to compound existing tensions, with fears mounting that President Joseph Kabila plans to hold on to power after his second mandate expires in December.
Close Story