Abortion referendum: Ireland on brink of history as 'No' campaign concedes defeat
May 26, 2018 11:15 PM IST
After the 'Yes' vote is confirmed in official results, the eighth amendment of Ireland's constitution will be repealed.
The Karnataka-based father of dentist Savita Halappanavar, who died in 2012 expressed delight as a referendum on repealing Ireland's strict abortion laws headed for a resounding 'Yes' vote and the 'No' campaign conceded defeat.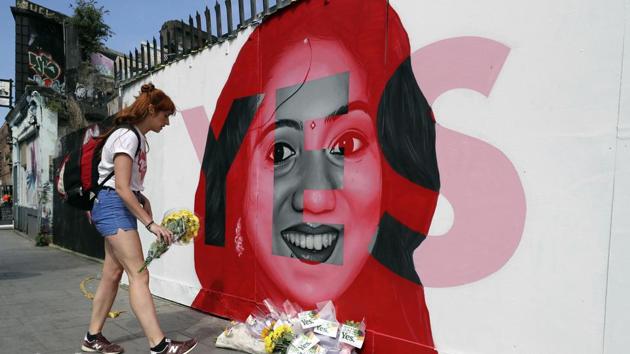 The official announcement is expected on Saturday evening local time, but initial results and exit polls pointed to a strong 'Yes' vote after a heavy turnout that saw Irish citizens based in India and elsewhere travelling to the country to cast their vote in the intensely debated campaign.
Andanappa Yalagi, father of Savita who died of sepsis in Galway in 2012 after being denied an abortion during a protracted miscarriage, told the media he was "very happy today."
"We've got justice for Savita. What happened to her will not happen to any other family. I have no words to express my gratitude to the people of Ireland at this historic moment.
Savita's smiling image on a poster was one of the prominent ones in the 'Yes' campaign, with the words, 'Savita Matters, Women Matter'. A memorial to her in central Dublin attracted several flowers and tributes, reflecting the fact that her passing away galvanised the 'Yes' campaign over the years.
After the 'Yes' vote is confirmed in official results, the eighth amendment of Ireland's constitution will be repealed. Article 40.3.3 would be removed and be replaced with an enabling provision: "Provision may be made by law for the regulation of termination of pregnancy". The 'Yes' campaign was backed by Ireland's Indian origin Prime Minister Leo Varadkar.
He said: "The people have spoken. They have said we need a modern constitution for a modern country. What we've seen is the culmination of a quiet revolution that's been taking place in Ireland over the past 20 years."
He hoped to have a new abortion law enacted by the end of this year.
Under current laws, abortion is banned in most cases, forcing thousands of Irish women to travel to Britain and elsewhere for termination of pregnancies. The laws prohibit abortion while the foetus is live, even if there is a threat to the mother's life.
Conceding defeat, the 'No' campaign said: "What Irish voters did yesterday is a tragedy of historic proportions. However, a wrong does not become right simply because a majority support it…The unborn child no longer has a right to life recognised by the Irish state.
"Shortly, legislation will be introduced that will allow babies to be killed in our country. We will oppose that legislation. If and when abortion clinics are opened in Ireland, because of the inability of the Government to keep their promise about a GP led service, we will oppose that as well".
"Abortion was wrong yesterday. It remains wrong today. The constitution has changed, but the facts have not," it added.