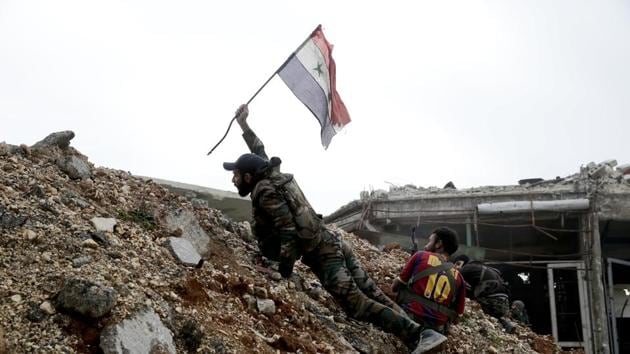 Aleppo recapture deals setback to Gulf rebel backers
The Syrian army's recapture of Aleppo has dealt a setback to Saudi Arabia and Qatar, two supporters of rebel forces whose struggle to oust President Bashar al-Assad appears increasingly fruitless.
PUBLISHED ON DEC 23, 2016 06:33 PM IST
The Syrian army's recapture of Aleppo has dealt a setback to Saudi Arabia and Qatar, two supporters of rebel forces whose struggle to oust President Bashar al-Assad appears increasingly fruitless.
Along with fellow US ally Turkey, the two wealthy Gulf countries have backed armed groups fighting government forces in Syria's civil war.
But with forceful military support from its traditional ally Russia and fighters from Iran and Lebanon's Shiite Hezbollah movement, the regime has made significant gains in recent months.
The retaking of Aleppo, which the army announced on Thursday after a withdrawal deal saw thousands of fighters and civilians evacuated from the last rebel-held areas, was the biggest victory yet for Assad's forces.
It marked a turning point the war, not only on the ground in Syria but for outside players like Saudi Arabia and Qatar, analysts said.
"The fall of Aleppo has weakened the negotiation position of the Syrian opposition and their allies," said Ibrahim Fraihat, a conflict resolution professor at the Doha Institute for Graduate Studies.
Assad's regime has over the years agreed to several rounds of peace talks with the opposition, including the Saudi-backed High Negotiations Committee.
And with the opposition -- which has long complained of a lack of serious military support from its allies -- losing ground, the diplomatic path is the only way forward, Fraihat said.
Russia, Turkey, Iran take lead
"Gulf backers should engage in pursuing a political settlement... as a military solution to this conflict has become less likely than ever before," Fraihat said.
At the same time, they should supply the rebels with sophisticated weapons, including air defence systems "to prevent further imbalance of power" that would make a political solution even less likely, he said.
For Mathieu Guidere, Middle East expert at the University of Toulouse, the fall of Aleppo has more dramatic consequences for Gulf backers.
"The destiny of Syria is no longer in the hands of Gulf countries," he said, pointing to the evolving cooperation between Turkey, Russia and Iran.
The trio agreed this week to guarantee Syria peace talks and have backed expanding a ceasefire, laying down their claim as the main powerbrokers in the conflict.
Ankara and Moscow also brokered the Aleppo evacuation deal.
"After the fall of Aleppo, the challenge for the Gulf countries is not Assad himself, but the new alliance between Russia, Turkey and Iran," Guidere said.
"In a severe power imbalance situation the powerful party loses the incentive to compromise and instead becomes tempted to pursue a zero-sum war," he said.
The largest remaining rebel bastion after Aleppo is Idlib province, controlled by a coalition dominated by extremists from a former Al-Qaeda affiliate.
In the south, rebels control most of Daraa province along the borders with Jordan, except for Daraa city itself. They also hold onto pockets east of Damascus, and in the central province of Homs.
US-Russia 'arrangement'?
Emirati political science professor Abdulkhaleq Abdulla said that Turkey is repositioning itself, shifting away from the side that had wanted to topple Assad.
"He who had bet on a Turkish-Saudi-Qatari alliance has lost," he said on Twitter.
Turkey has regular troops inside Syria near its border after launching an offensive in August against Islamic State group jihadists and Kurdish militia forces.
Turkey's cooperation with Russia also asserts the leading powerbroker role assumed by Moscow in Syria, a position that could get stronger under US President-elect Donald Trump who is considered to hold pro-Russia views.
"Saudis and others know that under President Trump the Western drift toward Assad will accelerate," according to Gulf expert Neil Partrick.
"This means that the goal of a Sunni-led Syrian client state, in which Saudi Arabia would contest with the Turks and their junior Qatari allies for weight, is over," Partrick said.
He said that Gulf states now realise that Washington "may now try to get an arrangement with Russia on what happens next."
He said such cooperation could mean that their arch-rival Tehran would have "less weight in determining the situation."
The United States and Europe have long insisted that a political settlement in which Assad agrees to step down is necessary to end the fighting.
"If Saudi Arabia was wise it would be sending signals to Assad now, as the Turks and Egypt have been," Partrick said.
Close