UAE accepts Afghan President Ashraf Ghani, family after escape from Kabul
Afghanistan President Ashraf Ghani escaped Kabul for a central Asian country hours before Taliban fighters laid siege on Kabul's presidential palace.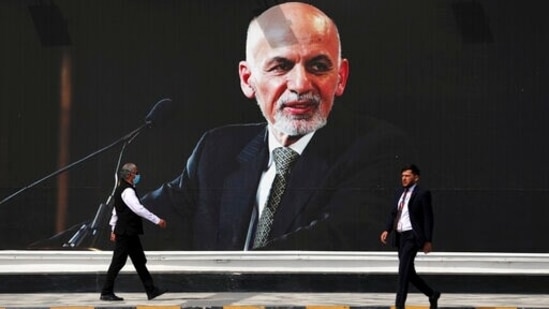 Published on Aug 18, 2021 08:03 PM IST
The United Arab Emirates said on Wednesday it was hosting Afghanistan President Ashraf Ghani and his family on "humanitarian grounds" following their escape from Kabul.
In a press statement, the ministry of foreign affairs and international cooperation said that it "can confirm that the UAE has welcomed President Ashraf Ghani and his family into the country on humanitarian grounds."
Ashraf Ghani escaped the Afghan capital for a central Asian country on Sunday hours before the Taliban fighters laid siege on Kabul's presidential palace, signalling the takeover of the government.
The UAE is one of three nations, including Saudi Arabia and Pakistan, which recognised the previous hardline Taliban regime, which ruled Afghanistan from 1996 to 2001.
Ghani's whereabouts had been unknown after he left Kabul and till Wednesday. He was reported to have left for a central Asian country. Media reports claimed he had left "with four cars and a helicopter full of cash" and was spotted "everywhere from Tajikistan to Oman to Abu Dhabi."
ALSO READ | How Afghanistan's president went from hero to villain-in-hiding
After leaving, Ghani posted on Facebook that he exited the country to avoid bloodshed. However, his escape irked the people of Afghanistan, including his cabinet colleagues, many of whom called it "treason".
A Fulbright Scholar with a doctorate from Columbia University, the 72-year-old economist assumed the presidency of Afghanistan in September 2014, after taking over from Hamid Karzai, who led Afghanistan after the US-led invasion in 2001.
ALSO READ | Why Ashraf Ghani, Afghanistan's best academic, failed
The acting governor of Afghanistan's central bank, Ajmal Ahmady, questioned the loyalty of Afghan security forces and blamed Ashraf Ghani and his "inexperienced advisors" for the country's swift and chaotic fall to the Taliban. He fled Kabul, too, after the Taliban laid siege on the capital.
Ghani's presidency was fraught with challenges. In his last years in office, Ghani watched as he was first cut off from negotiations between the US and the Taliban that set the groundwork for the US pullout from Afghanistan, AFP reported. He was then forced by his US allies to release 5,000 hardened insurgents to broker a peace deal that never materialised.
Dismissed as a "puppet" by the Taliban, Ghani barely had any leverage during his final months in the presidential palace, and he resorted to delivering televised diatribes that did little to improve his reputation with the people of the war-torn nation.
Topics
Close Story