Donald Trump to announce his choice for SC judge on July 9, Indian-American Amul Thapar in fray
Hindustan Times, Washington |
Yashwant Raj
Jun 30, 2018 01:35 PM IST
Indian-American judge Amul Thapar is on a shortlist of candidates being considered by US President Donald Trump to succeed Justice Anthony Kennedy, who has announced plans to retire in July.
Judge Amul Thapar will have to wait till July 9 to know if he will make history as the first American of Indian or Asian descent to be nominated to the United States Supreme Court as one of its nine justices.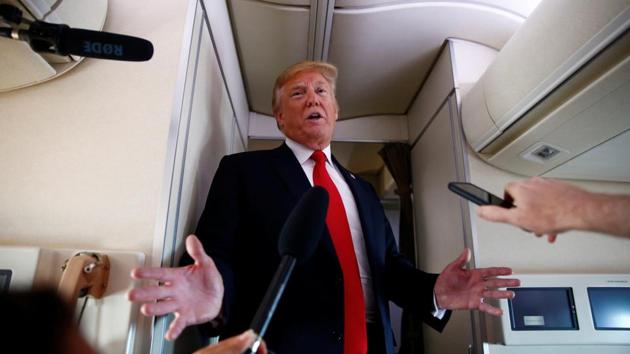 He is on a shortlist of candidates being considered by President Donald Trump to succeed Justice Anthony Kennedy, who has announced plans to retire in July.
Trump told reporters Friday that he will announce his pick on July 9, and his shortlist has "narrowed to about five", which include two women. Although he did not take names, Thapar has emerged as a strong favourite in the races so far. He is backed by conservative groups and leading figures in the Republican establishment such as Mitch McConnell, majority leader in the senate.
Trump himself had interviewed Thapar on a previous occasion for a Supreme Court position that eventually went to Neil Gorsuch. And as a presidential candidate, Trump had said he would like to name Thapar to the apex court.
The president now has the chance to make history again. His first on this count was Nikki Haley, whom he appointed US ambassador to the United Nations, making her the first Indian American to a cabinet position. If Thapar lands the position, Trump can earn himself another mention in the history books as the president who appointed the first American of Indian descent to the Supreme Court.
Jennifer Carol, former Florida Lt-Governor and a Trump supporter, said it's time for the bench to have another person of colour — Justice Clarence Thomas "cannot be the only one" — and Thapar fulfills all the qualities that the president, senators and other lawmakers want to see in their nominee. However, it will be a long road from the president's shortlist to the senate for a confirmation hearing, and Thapar and his supporters will soon enough see if he gets the nod.
President Trump has said he will start interviewing the shortlisted nominees, and plans to "have two of them come up, like the old days to Bedminster (the president's New Jersey golf resort)… could be this weekend".
"Outside of war and peace, of course, the most important decision you make (as president of the United States) is the selection of a Supreme Court judge, if you get it," he added.
Trump's pick could have a generational impact. Supreme Court justices, like all American judges, serve for life and someone as young as Judge Thapar (he is only 49) can go on for another three decades – if not more. Justice Anthony is retiring at 81.
Thapar has a chance to make history that narrowly escaped Sri Srinivasan, the first Indian American appointed to the court of appeals (only a rung below the Supreme Court). If things work out in his favour, he will become the first individual from the country's tiny three-million-strong Indian community to be named to the highest court in the land.
Srinivasan was among the two nominees former President Barack Obama narrowed the list down down to in 2016 for filling a vacancy created by the passing of Antonin Scalia, the court's celebrated conservative voice. Obama eventually went with Merrick Garland, the alternative choice before him, who did not even get a confirmation hearing from the Republican-controlled senate.
Bedminster gates will be closely tracked by TV news crews for potential nominees called for the interview, and – either way – Thapar's fate will become clear soon enough.