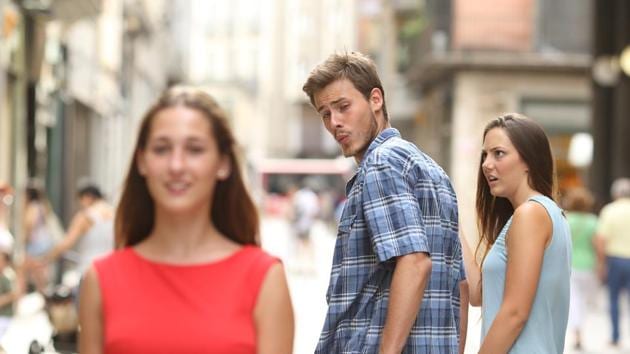 How many times have you seen the 'distracted boyfriend' meme? Now read the story behind it
Here is the story behind the 'distracted boyfriend' meme.
UPDATED ON AUG 31, 2017 06:51 PM IST
If you are on the internet, there's a strong chance you have seen this image. Or any one of the hundred memes that it has spawned.
The 'distracted boyfriend' meme, as it has been dubbed now, started life as a stock photo on Shutterstock with the caption "disloyal man walking with his girlfriend and looking amazed at another seductive girl".
Little did the photographer know that it would turn into a meme. Professional photographer Antonio Guillem, who took the photo, did not even know what a meme was, until very recently.
Talking to The Guardian, Guillem said the models in the photo told him that the image had gone viral. "I didn't even know what a meme is until recently," said the 45-year-old photographer from Barcelona. "The models discovered the meme on social media and they told me about it. None of us could imagine the media repercussion that it has reached right now."
Guillem also had a word of warning for memesters: the photo is copyrighted and should not be edited, especially with offensive content.
So, how did a generic stock image end up as a meme? According to Know Your Meme, a website that chronicles the origins and life-cycles of internet memes, on February 23, 2017, Instagram user @_dekhbai posted the image with the caption "Tag That Friend / Who Falls in Love Every Month", which garnered over 28,500 likes.
After that, the image was a minefield for memes. Its simple format -- person has something but wants something else -- made it quite a hilarious candidate for all sorts of memes.
On August 19, a Twitter user @n1m161 posted the image, but this time the distracted boyfriend was checking out 'socialism' while 'capitalism' looked on.
But really, what has the image not been used for? From the eclipse to ice cream sandwich to cats, even grammar.
Of course, once the internet discovers something, it decides to run with it. The wild popularity of the meme inspired Vice to imagine a fake trailer for Distracted Boyfriend Meme: The Movie (please don't actually make it, Hollywood).
Guillem has shot a series of stock images with the same models in different situations. While he continues to work with two of them, known as 'Laura' and 'Mario', it appears he has fallen out with the woman in red dress and stopped working with her a year ago.
And for all those hoping that the meme would die a natural death, it could take a while. The internet has discovered that image was part of a series and is now having the time weaving stories out of it.
Close