Replace Jesus Christ's photo with those of Pres Xi, Chinese Christians told
Updated on Nov 15, 2017 10:27 PM IST
Media reports said many people have been told to take down the images of Jesus, the crosses and the gospel couplets in their homes.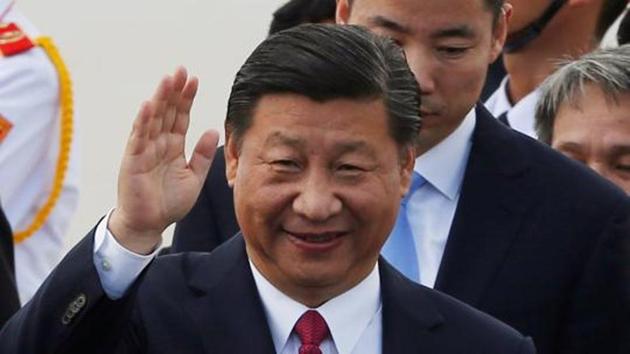 Hindustan Times, Beijing |
Sutirtho Patranobis
Christian residents in a rural area of the southeastern province of Jiangxi have been directed to replace images of Jesus Christ with photos of President Xi Jinping, according to media reports.
Hong Kong-based South China Morning Post quoted a local official as saying that people in villages in the region were ignorant and had to be told it was the Communist Party of China, and not any prophet, they have to rely on for help.
"Many rural people are ignorant. They think God is their savior…After our cadres' work, they'll realise their mistakes and think: we should no longer rely on Jesus, but on the party for help," Qi Yan, identified as "chairman of the Huangjinbu people's congress", told the newspaper.
Qi added that some residents in the area had became Christians due to "illness in the family", which the communists argue can only be cured through "the Communist Party and General Secretary Xi".
According to the Washington Post, the campaign has been running since March in Huangjinbu township, with more than 1,000 portraits of Xi distributed and hung in homes. Christians make up around a third of the population there, with between 5,000 and 6,000 families.
The move is being interpreted in two ways – part of a crackdown on Christianity, said to be the fastest growing religion in China, or as part of Xi's increasing and expanding personality cult.
Xi, 64, who has emerged as the most powerful leader in recent times, was given a second five-year term by the Communist Party's Congress last month.
Sociology professor Yang Fenggang, the founding director of the Centre on Religion and Chinese Society at Purdue University, Indiana, told Hindustan Times last year that Christianity would become the largest religion in China in the coming years. He explained the phenomenon in terms of economics and globalisation.
Chinese officials had sharply criticised Yang's 2014 estimate that the Christian community could exceed 160 million by 2025, and 247 million by 2030.
China is officially an atheist country but the Communist Party-run government recognises five religions – Buddhism, Islam, Taoism, Protestantism and Catholicism. Under the Chinese constitution, citizens have the liberty to follow a religion of choice but in reality, freedom of religion is severely curtailed.
The Communist Party has been tracking the spread of religion in China. Earlier this year, the country's top official overseeing religious affairs, Wang Zuoan, wrote to party members to give up religion and seek faith and belief within the party's ideology or face punishment.
"Party members should not have religious beliefs, which is a red line for all members…Party members should be firm Marxist atheists, obey Party rules and stick to the Party's faith…they are not allowed to seek value and belief in religion," Wang, director of the state administration for religious affairs, wrote for the party's top political theory journal, Qiushi or Seeking Truth.
Personalise your news feed. Follow trending topics