Nikki Haley slams rumours of affair with Trump as 'highly offensive', 'disgusting'
Updated on Jan 27, 2018 09:32 PM IST
Haley attributed the rumours to sexism from a "small group of men" uneasy with strong-willed women.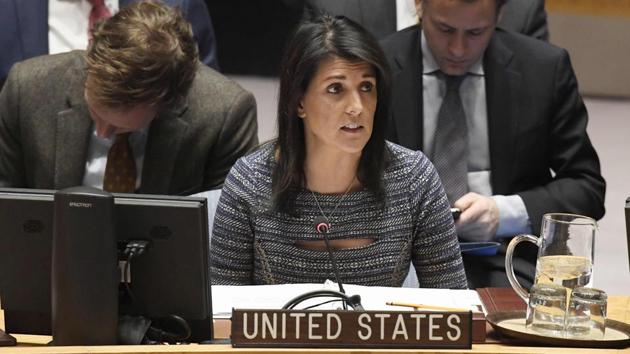 Hindustan Times, Washington |
Yashwant Raj
US ambassador to the United Nations Nikki Haley has furiously dismissed rumours of an affair with President Donald Trump triggered by a tell-all book that had drawn an unflattering picture of a dysfunctional presidency mired in intense court intrigues and rivalries.
"The president had been spending a notable amount of private time with Haley on Air Force One and was seen to be grooming her for a national political future," Michael Wolff wrote in Fire and Fury: Inside the Trump White House, which is at the heart of the rumours, and which he has stoked in interviews promoting his book.
Haley dismissed the insinuation as "highly offensive" and "disgusting" in an interview to Politico.
"It is absolutely not true," she said. "I have literally been on Air Force One once and there were several people in the room when I was there."
"He (the author Wolff) says that I've been talking a lot with the president in the Oval about my political future. I've never talked once to the president about my future and I am never alone with him."
"So the idea that these things come out, that's a problem," Haley added. "But it goes to a bigger issue that we need to always be conscious of: At every point in my life, I've noticed that if you speak your mind and you're strong about it and you say what you believe, there is a small percentage of people that resent that and the way they deal with it is to try and throw arrows, lies or not."
Haley, an Indian American whose family hails from Punjab, has had a meteoric rise in the Republican party, starting as a member of the South Carolina state assembly. She went on to serve two terms as governor of the state, which is one of the most conservative in the country, and has often been spoken of as a candidate for the White House.
She was a surprise choice for the position of ambassador to the United Nation, having had no prior foreign policy experience, a job she landed after figuring in the mix of candidates Trump was considering for secretary of state. She lost out to Rex Tillerson then, but there has been speculation she could get that job still as Tillerson is not expected to last long.
As US ambassador to the UN, a position of cabinet rank, that is the highest an Indian American has risen in US federal government, a feat that has endeared her to even Democrats in the community, which has tended to lean left mostly.
Her unexpected elevation to that position has not, however, stopped her from differing with the president — they had exchanged some harsh remarks during the presidential campaign — but Haley has also emerged as a fierce defender of some of Trump's most controversial foreign policy moves, such as recognising Jerusalem as the capital of Israel and holding the threat of aid cuts to prevent nations from voting against the US on the issue at the United Nations.
The US envoy to the UN is married to Michael Haley and they have two children.
She had encountered accusations of extramarital affair during her campaign for governor in South Carolina. "I saw this as a legislator. I saw this when I was governor. I see it now. I see them do it to other women," she told Politico. "And the thing is, when women work, they prioritise, they focus, and they believe if you're gonna to something, do it right."
Haley attributed the rumours to sexism from a "small group of men" uneasy with strong-willed women.
"Most men respect women but there is a small group of men, that if you just do your job and you try and do it well and you are outspoken about it, they resent it. And they think the only option is to bring you down," she said.
The former South Carolina governor who backed Trump rival Marco Rubio for the Republican nomination said she and Trump are in agreement on almost all policy issues.
"We get along great, and I agree with almost everything that he has done," she said. (With inputs from agencies)