One killed, several wounded in Afghan mosque bombing: police
Published on Jun 17, 2022 11:07 PM IST
The explosion occurred in the northern province of Kunduz in a district where dozens of worshippers had been killed in April in a similar bomb attack.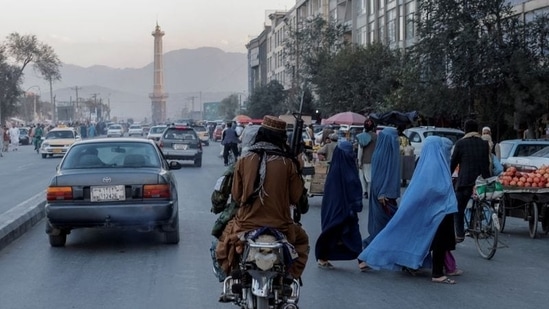 A bomb blast at a mosque in northern Afghanistan killed at least one worshipper and wounded seven others during Friday midday prayers, police said.
The explosion occurred in the northern province of Kunduz in a district where dozens of worshippers had been killed in April in a similar bomb attack.
Provincial police spokesman Qari Obaidullah Abedi said one person had been killed in Friday's blast at the Alif Birdi mosque in Imam Shahib district.
"The explosives were placed inside the mosque," he told AFP.
A witness who spoke on condition of anonymity said the bomb exploded just as worshippers finished prayers and were preparing to leave the mosque.
The explosive device was placed not far from where the prayer leader, who was wounded, had delivered the sermon, he said.
A medic at the provincial hospital confirmed the toll of dead and wounded.
No group has so far claimed responsibility for the attack.
The Taliban's takeover of Afghanistan from a US-backed government last year has seen the number of bombings in the country fall, but the Islamic State (IS) armed group has continued to target minority communities and others in attacks.
A string of bombings hit the country during the Muslim holy month of Ramadan, which ended in Afghanistan on April 30, some of them claimed by IS.
On April 22, a blast at a mosque in Imam Shahib district killed at least 36 worshippers and wounded scores more in one of the deadliest attacks to take place since the Taliban returned to power.
That blast targeted members of the minority Sufi community who were performing rituals after Friday prayers.
The regional IS branch in Sunni-majority Afghanistan has repeatedly attacked Shiites and minorities like Sufis, who it says are heretics.
Taliban officials insist their forces have defeated IS, but analysts say the jihadist group is a key security challenge for Afghanistan's current rulers.
Topics
Close Story
'Top secret' documents seized in raid on Donald Trump's home: Report

FBI agents recovered records marked "top secret" during their search of former president Donald Trump's Florida estate, according to documents made public Friday in a probe that includes possible violations of the US Espionage Act. The warrant and related materials, unsealed by a Florida judge, showed agents took away with them a significant amount of classified files after the raid, which ignited a political firestorm in an already bitterly divided country.

Salman Rushdie had multiple stab wounds, says doctor who helped him

Salman Rushdie suffered multiple stab wounds, including one to the right side of his neck, and was lying in a pool of blood under his body after he was attacked at an event here on Friday, according to a doctor who helped the Mumbai-born controversial author following the brutal assault. Rushdie was attacked and stabbed in the neck on Friday while onstage in Chautauqua in Western New York, New York Police said.

Montenegro mass shooting leaves 12 dead, 6 injured

Twelve people including a gunman were killed in a mass shooting in Montenegro on Friday, according to local media reports, while another six were injured. Police at the scene in the western Montenegrin city of Cetinje declined to comment on the incident. The media reports said a man from Cetinje had opened fire at random in his neighbourhood after a family dispute, killing 11 people and injuring six others.

Terrible day for authors everywhere, say Salman Rushdie's peers after NY attack

Moments after the 75-year-old Booker Prize winner Salman Rushdie was attacked on a stage in New York, several celebrated authors took to Twitter to express their concern. Stephen King, the author of several horror books, including 'It' and 'The Shining', took to Twitter and wrote 'I hope Salman Rushdie is okay.' The US senator of New York Chuck Schumer called the incident a 'shocking and appalling attack on freedom of speech and thought.'

Salman Rushdie is alive and airlifted to safety, says New York governor

British author Salman Rushdie, who was attacked and stabbed in the neck at a literary event on Friday in western New York state, is alive and has been airlifted to safety, said New York's governor Kathy Hochul. Rushdie, whose writings made him the target of Iranian death threats, was taken by helicopter to a local hospital. Social media footage showed people rushing to Rushdie's aid and administrating emergency medical care.
Personalise your news feed. Follow trending topics