Pak minister's presence at Chabahar port opening indicates shift in ties with Iran: Report
The $340 million project was constructed by a Revolutionary Guard-affiliated company, Khatam al-Anbia, the largest Iranian contractor of government construction projects.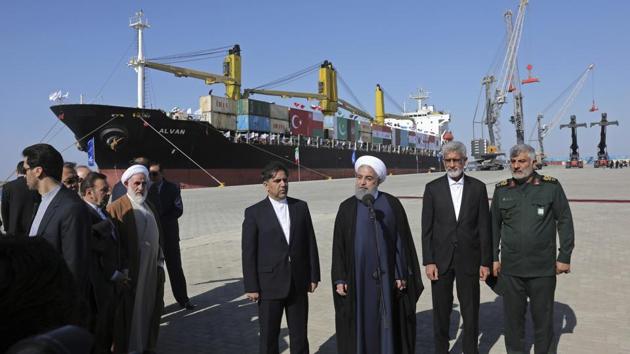 Updated on Dec 11, 2017 06:09 PM IST
Press Trust of India, Islamabad |
Press Trust of India
The participation of a Pakistani minister at the inauguration of the first phase of Iran's Chabahar port - even though the country is not part of the strategic project - represents a "significant shift" in the two neighbours' ties, a media report said on Monday.
As Iranian President Hassan Rowhani inaugurated the first phase of the Chabahar port last week, Pakistan's minister for ports and shipping Hasil Khan Bizenjo was standing next to him.
"This was no coincidence, as Hasil Khan Bizenjo was asked to stand next to Rowhani in a carefully choreographed move," the Express Tribune reported regarding the minister's presence on the occasion despite the fact that Pakistan is not part of the project.
"The objective behind this move was clear - Iran wanted to send a message that it would not allow India or any other country to use Chabahar against Pakistan," a senior Iranian diplomat reportedly told the daily on condition of anonymity.
Such a firsthand account of close cooperation between Pakistan and Iran is unusual and represents a significant shift in the two neighbours' ties, which have often been marred by a trust deficit and mutual suspicion, the paper commented.
The turnaround is also important when seen alongside Pakistan's participation in the Saudi-led counter-terrorism coalition, it said.
Iran, which is not part of the grouping, considers the initiative an attempt to further Saudi Arabia's agenda in West Asia.
That is one of the reasons that Pakistan has been treading a careful path on the issue as it has the potential to undermine ties with Iran, the report said.
Pakistan, according to official sources, has assured Iran that Islamabad would not become part of an initiative that targets Tehran.
Tehran, in return, has pledged that it would not allow any regional country, including India, to undermine Pakistan's interests, the report said.
The Chabahar port opens a new strategic route connecting Iran, India and Afghanistan, while bypassing Pakistan, and reflects growing convergence of interests among the three countries.
The port is considered a gateway to golden opportunities for trade by India, Iran and Afghanistan with central Asian countries besides ramping up trade among the three countries in the wake of Pakistan denying transit access to New Delhi.
The port in Iran's Sistan-Balochistan province on the energy-rich nation's southern coast is easily accessible from India's western coast and is increasingly seen as a counter to Pakistan's Gwadar, which is being developed with Chinese investment and is located around 80 kms from Chabahar.
Close Story
Personalise your news feed. Follow trending topics