Pakistan NSA says US siding with India, warns of nuke war in South Asia
Nasser Khan Janjua said special efforts are needed to maintain balance in South Asia, which is a "mistake away" from a major catastrophe.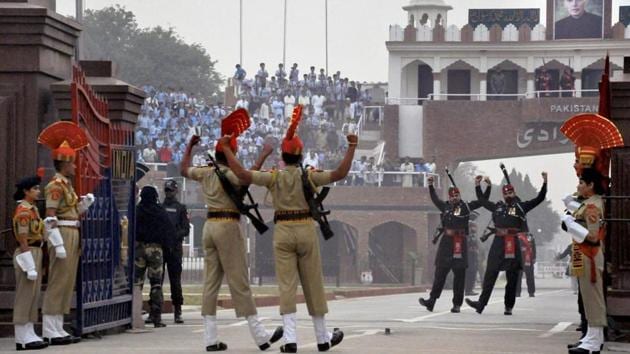 Updated on Dec 19, 2017 11:49 PM IST
Hindustan Times, New Delhi/Islamabad |
, Islamabad/new Delhi
HT Correspondents
Pakistan's National Security Advisor Nasser Khan Janjua has accused the US of siding with India and warned of a possible "nuclear war" due to the delicate security situation in South Asia.
"The stability of the South Asian region hangs in a delicate balance, and the possibility of nuclear war cannot be ruled out," Janjua was quoted by the Pakistani media as saying at a seminar in Islamabad on Monday.
"India has been stockpiling a range of dangerous weapons as it threatens Pakistan continuously of conventional warfare," he told the seminar on the the "National Security Policy – Vision for Pakistan" that was organized by the Center for Global & Strategic Studies (CGSS).
Janjua said special efforts are needed to maintain balance in South Asia, which is a "mistake away" from a major catastrophe.
India-Pakistan ties are at an all-time low following a string of terror attacks last year that were blamed on Pakistan-based groups such as the Jaish-e-Mohammed. The two sides have also had intense exchanges of fire on the Line of Control (LoC) in Kashmir, putting a 14-year-old ceasefire under pressure.
Janjua, who rarely speaks in public on security issues, contended the US had chosen to side with India against Pakistan while ignoring Islamabad's "enormous sacrifices in the fight against terrorism".
"India is being given priority over Pakistan in Afghanistan, something that will shape the political and strategic dynamics of the war-torn country," he said in remarks that were described by the Pakistani media as unusually candid and blunt.
Janjua also accused the US of conspiring with India against the China-Pakistan Economic Corridor as part of its policy to counter Chinese influence in South Asia.
"The US-India alliance has an identical stance on the Kashmir issue, and America frequently gives India preference over Pakistan," he said.
Pakistan's top civil and military leadership has been irked by growing pressure from the Trump administration to crack down terror groups based on the country's soil – an issue that was raised during recent visits to Pakistan by secretary of state Rex Tillerson and defence secretary Jim Mattis.
The US has also demanded that Pakistan should re-arrest Lashkar-e-Taiba founder Hafiz Saeed, the alleged mastermind of the 2008 Mumbai attacks, and prosecute him.
A recent Pentagon report on Afghanistan that was submitted to Congress has also suggested the US could resort to "unilateral actions" in areas of divergence with Pakistan.
But Janjua regretted that Pakistan was being accused of playing a "double game" and providing "safe havens to Taliban and Haqqani Network" while the US disregarded its contribution to the fight against terror. The US, he said, is "exporting war and perpetual instability to South Asia".
He added that on the one hand, the US accused Pakistan of siding with the Taliban and Haqqani Network and, on the other, the Tehreek-e-Taliban Pakistan attacked the country for helping "infidels".
Janjua said Pakistan encountered the menace of terrorism only after it began backing the operations of US-led forces in Afghanistan. "Pakistan has been battling with security problems for the past many years. Peace in Afghanistan remains our top priority," he added.
Pakistan now needs to frame a comprehensive response to security of the state, and the current security milieus across the globe had witnessed a paradigm shift where cyber threats had taken centre-stage, he said.
Close Story